45 Ounce Nylon Special | Shaw
SKU: 45 Ounce Nylon
"CLICK ON IMAGES TO ENLARGE"
SAVE UP TO 80% ON
MANUFACTURES SPECIALS
FROM TEXAS CARPETS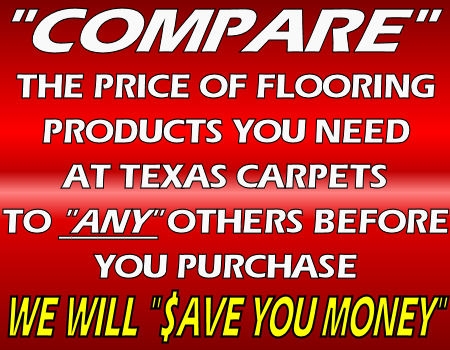 SOLD IN ROLLS / LOTS ONLY
NO CUTS MADE
FIRST QUALITY PRODUCTS
ONLY IN COLORS SHOWN
CALL OR EMAIL FOR PRICES
AND PRODUCT AVAILABILITY
45 OUNCE FACE WEIGHT
FILAMENT NYLON
FIRST QUALITY PRODUCT
ONLY INB COLORS SHOWN
( suggested retial - $18.99 / sq. yd. )

CALL OR EMAIL FOR AVAILABILITY AND SIZES
CALL TEXAS CARPETS FOR BEST PRICING ON ALL FLOORING PRODUCTS!